Alex Greisdorf
Just another yakka looking for the GF tittle. Runner up on my home turf in 2017 honing to go one better away in 2019.
---
Alex Whitehead
Profile
This time last year I didn't no what a bream or a lure was. In the last 12 months I've become a addicted bream angler out of my Hobie.
The best fishing for me is in narrow creeks where the fish sit up on snags. Nothing beats pulling a 40+cm fish from a snag.
---
Andy Mitchell
Profile
What year did you start fishing in the Hobie Kayak Bream Series?
It was 2013 & luckily I managed to finish 3rd at the Blackwood River round, therefore qualifying for the Hobie National Grand Final held in Marlo the same year.
Tell us about your favourite fishing spot/location and what makes it so special.
It has to be the Blackwood River, just outside Augusta in the South West of Western Australia. It offers everything when it comes to Breaming; whether its flats, drop offs, deep timber snags – which are covered in barnacles making them like razor wire. Bream fight real dirty in that system, it's heart in mouth stuff for sure.
What is your favourite species?
Bream is top of my list; 90% of the fishing I do is chasing them. Nothing's more rewarding than pulling out a big blue lip from his lair.
---
Bogdan Zisu
If there's water, I will fish it. Privileged to have fished for bream on the flats, the deepest oceans, the streams of the Amazon and most things in between.
---
Brendan Pieschel
Residing in Harrington, NSW. I spend a lot of my time fishing the Manning River, targeting mainly Yellow fin Bream in the estuary or Australian Bass in the upper (fresh) reaches of the Manning. A keen Angler my whole life, I began tournament fishing with Hobie in 2016. My first round at Forster was a really awesome and grounding experience, although I didn't get many fish I learnt a lot, met some great people and knew that this was something I was going to stick with. Qualifying for my third consecutive Championship I'm really looking forward to getting to the Bemm River 2020. I've enjoyed Hobie's previous rounds at Bemm and have had reasonable results there. The Championship format is my favourite tournament and as I've had reasonably good results at Bemm previously, I'll be going into the Championship with some confidence. I have owned many Hobie Kayaks, with quite a few at home to suit my fishing and lifestyle, including a Revo 11 and an inflatable; however, my Tournament rig at the moment is a 2019 MD180 outback, which I obtained from the 2019 Championships. I'd like to thank my sponsors at Hunter Waters Sports and for the continued support of my local tackle stores, Manning River Marine and Harrington Bait and Tackle. At present my go to fishing gear is my Samurai Infinite rods coupled with Diawa Certate reels, running a combination of Diawa J Braid and FC Rock fluorocarbon leader. My favourite styles are fishing are chasing Bream in the oyster leases with either surface lures or plastics and Bass on surface lures in the skinny water. My favourite lures are Zman 2.5 inch (Motor oil) grubs, Cranka Crabs and Atomic Crank baits.
Its going to be a great Championship with some exceptional Anglers taking part. Good luck to all of the competitors.
---
Carl Dubois
Carl has been fishing since he was 4 years old (that makes it 52 years fishing so far) and is a seasoned tournament competitor with over twelve years experience in Hobie kayaks. You'd think he would've learnt something by now. He lives near the George's River just south of Sydney and fishes with lures to catch Bream, Bass, Kingfish, Tailor and Flathead. Not Bonito though.
Carl has fished nearly all the various kayak tournaments since they started in Australia and has managed 6 wins and 12 top 3 placings over the last 8 years and was Hobie Angler of the Year in 2016. YES!
Carl was the creator of one of Australia's first ever kayak fishing DVD's, 'Kayak Fishing Sydney'. He has also written numerous articles published in International and Australian magazines such as 'Kayak Fisherman' and 'Sport Fishing Australia'. Carl creates videos for YouTube and has his own channel, 'Carl Dubois Fishing'.
The highlight of Carls kayak tournament career was being selected as part of the 11-man squad of the Australian Hobie Kayak Fishing team to represent Australia in the China Kayak Open Fishing Championship at Shengzhong Lake in 2014. Placing 3rd and collecting his trophy and prizes in front of 10,000+ spectators is something he will never forget. In 2015 he once again placed 3rd and in 2017 he placed 8th. This year, Carl aimed for the number 1 spot but felt it better to sacrifice himself to allow other team members to shine!
Recently Carl has been shadowed by a long lost relative, McItchy. He is quickly learning the ropes and is expected to be a force to be reckoned with in the years to come. Although not qualified for this AC, he's expected to make an appearance which will surely make a few anglers, especially that Mitch bloke from Texas, shake in their boots. There is also a strong rumour that McItchy's cousin, McChoker, will turn up too…
ps Little does Mark Young know that his own son sold him out and gave the luckiest rock to Carl. Mwah ha ha ha
---
Chesney Fung
Profile
What year did you start fishing in the Hobie Kayak Bream Series?
2013
Tell us about your favourite fishing spot/location and what makes it so special.
My favourite spot would be Bemm River. It has lots of fish and the venue is the right size for me. The gear in the Tackle Store is fantastic and Owner Mark is a nice guy.
What is your favourite species?
Bream
I have to confess. When I'm not fishing, I'm thinking about fishing. I started my love of fishing aged 8 in Hong Kong. Back then, I rode my bicycle 30 minutes each day to the nearest freshwater pond chasing Catfish, Tilipia and Carp. My mum would drive me sometimes, as she enjoyed fishing as well. However, she maintains that she went because I wanted to. In those formative years the weapon of choice was the humble old fibreglass rod ($20) and some earthworm I dug up from the garden. I did not catch much, but those formative years had established my life-long passion.
Moving to Melbourne in 1996, and my mindset about fishing took a huge turn, especially towards the use of artificial baits and lures.
Being an university student, money was tight. I worked part-time to save up for my first lure rod, a Daiwa Heartland IM6, 6″6 4-8lb from a local tackle. The store owner even threw in a couple of jig-heads and Berkley 2″ powerbait grubs to boot. My hunting grounds were Docklands and Maribyrnong River.
My mates would outfish me every time using bait and they always enjoyed teasing me about that. However I persisted with the couple of lures I bought. I love the thrill of the chase, the challenge, and I was compelled to crack the pattern.
Years passed. My passion for lure fishing is still growing strong. Along the way I manage to picked up experiences from different forms of fishing as well. From blue-water popping, reef jigging, flyfishing, and my first love bream/trout luring. The more specific a target I chase,the more I understand of the importance of having the right rod for individual situations.
This led me to building my own, I made my first fishing rod 3 years ago. To me, a fishing rod to the angler is synonymous to the sword of a samurai. A rod running a shallow bream minnow should have a different action to a rod running a heavy bream vibe for example. Having the right rod will not only enhance the fishing experience, it also translates to a well balanced rod that helps catching more fish. A balanced rod will help me to cast accurately, and give me the confidence to land the fish with the best power delivery. Selection for the blank, the guides, and seat position are the art of rod crafting. Currently I am active in the ABT Kayak Bass & Bream Tournaments. The right rod will definitely give me a competitive edge.
---
Chris Purnell
Hobie Kayak, SUP, Eclipse & Sailboat dealer based on the South Coast of NSW.
In truth the passion for fishing came about 15 years ago when I met my wife. From there we now live & breath fishing and in particular HOBIE kayak fishing.
---
Danny Jobson
My name is Danny Jobson, I've been competing in the Hobie Kayak Bream Series for 2 seasons now.
I love the format, the comradeship and the competitiveness but most of all I love to learn. These comps are a great way to learn and enhance your skill set.
My home waterway is Lake Macquarie in NSW but I love the challenge of travelling up and down the coast challenging myself by fishing different systems and scenarios. I'm looking forward to the 2018 Championship and the 2019 series ahead.
---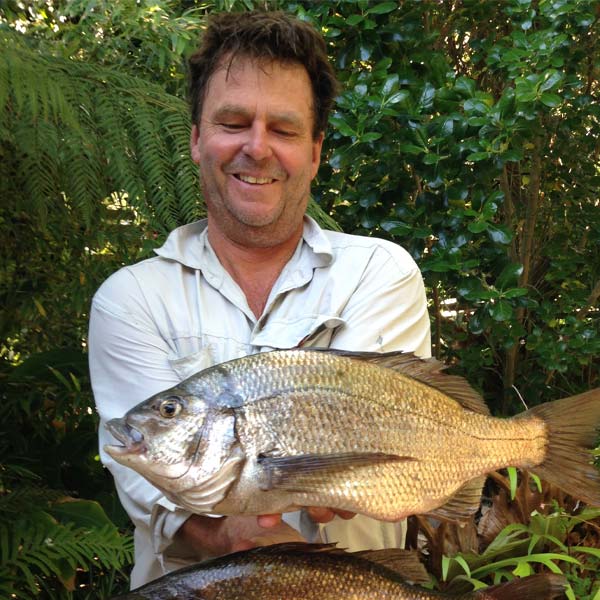 David Ayton
Lifetime fishing. All types,fresh and salt,but prefer rivers lakes and estuaries.
Moving more towards lure fishing and loving the kayak fishing. Using the boat less and less.
Did a few events last year to see how things worked.
Learn't a lot in a short time and I am hoping to be up there this year.
---
Doug Baker
Profile
What year did you start fishing in the Hobie Kayak Bream Series?
2016
Tell us about your favourite fishing spot/location and what makes it so special.
Bemm River is were I found out about Hobie Kayak fishing from a couple of competitive guys who were pre-fishing a competition. Since then I have loved the challenge of so many locations to fish for bream. I'm so glad I chatted with them; I really love fishing from my Hobie Pro Angler 14.
What is your favourite species?
Trout; but bream is taking over.
---
Dylan Henness
Born in Sale, Victoria.
Studying Ocean Engineering in Tassie.
Biggest Bream: 45 fork, Biggest Bass: 50 fork.
Team Member at Searing Tackle
---
Geoffrey Alford
Profile
Been competing in various Bream Competitions since 2010 and continue to enjoy the camaraderie and the competition scene itself. Always looking to learn and always looking to improve. My aim in 2017 is to try to make the Australian Championships as I did in 2015 which I enjoyed enormously. I'd like to thank all of my sponsors …. that didn't take long now did it. … there ya go.
What year did you start fishing in the Hobie Kayak Bream Series?
2013
Tell us about your favourite fishing spot/location and what makes it so special.
Mallacoota. Massive system where there are so many areas accessible by Kayak, or Boat, and brilliant estuarine styled fishing. Everything from surface to flats, to down deep, to sight fishing the edges; it's all there. Typically, in poor weather you can always find somewhere safe to fish. It has its challenges but that adds to the rewards.
What is your favourite species?
Black Bream
---
Glenn Allen
Glenn Allen is a born and bred local Central Coast fisho. He started out as a little tadpole and then a young little fella fishing on family holidays before hitting anything that swims with fins while he moved up the ranks earning his stripes on the local rocks as a young gun angler that could throw a lure all fly with super speed and precision and turn lookers into takers . He is now getting old and fishers for Bream in a Hobie kayak and is renowned for coming up and pulling Keggers from under peoples noses that had been sitting on a spot all day and breaking hearts. With consistent results he has fished six international events and six Australia championships. Who would of thought he still hasn't won a Hobie kayak round yet .. anyway that's a different story. Over the years he has been lucky enough to travel Australia and the world meeting new friends while doing what he loves . He says he would love to thank all the people who have supported him over the years especially his family and friends. He was also very tied after his profile late at night and happened to full asleep … z z z z z z z z z z z z z z z z z z z z z z z z z z z z z z z z z z z z z z z z z z z z z z z z z z z z z z z z z Z z z z z ZZ Z Z Z Z Z Z Z Z Z Z Z Z Z Z Z Z Z Z Z Z Z Z Z Z Z Z Z Z Z Z Z Z Z Z :)
---
Greg Cooper
From Margaret River Wine Region of WA
who has been lucky enough to qualify for the Australian Championships !
This will be my third .
In 2016 I entered my first KAYAK event ;it was a Hobie qualifying round on my local Blackwood river ,I didn't have one of those flash Hobies only small paddle Malabu , I had never bream fished out of this kayak before and found it very challenging with all the additional weight of the live well didn't sit too well in the water .i have since upgraded my Kayak and enter as many Events as possible .
My most rewarding event was winning my first Hobie Qualifier in 2016 .
My most disappointing without a doubt was a "Tripple Donnut " In the 2017 Australian Championships , Mandurah WA .
I have qualified for the Australian championships in 2016,17,19 .
Although my past results weren't that impressive I am really looking forward to the Bemm River event ,
I would also like to thank Hobbie and Getaway Outdoors here in WA for providing professionally run local events Cheers
… . . . . . . . . . . . . . . . . . . . . . . . . . . . . . . . . . . . . . . . . . . . . . . . . . . . . . . . . . . . . . . . . . . .. . . . . . . . . . . . . . . . . . . . . . . . . . . . . . . . . . . . . . . . . . . . . .Thanks Hobie . . .
---
Jack Gammie
My only goal is to beat Simon Morley and Mitchell Maddison!!
I'm 21 years young. I come from a suburb of Sydney called Berowra Heights and I'm lucky enough to be out fishing for yellow fin bream on the Hawkesbury River every weekend. Over the years of i have been lucky enough to fish Bemm River many of times. it would have to be one of the best victorian water ways for fish numbers caught and one of my favourites. blah blah blah blah blah blah blah blah blah blah blah blah blah blah blah blah blah blah vblah blah blah blah blah blah blah blah blah blah blah blah blah blah blah blah blah blah blah blah blah blah blah blah blah blah blah blah blah blah blah blah blah blah blah blah blah blah blah blah blah blah blah blah blah blah blah blah blah blah blah blah blah blah blah blah blah blah blah blah blah blah blah blah blah blah blah blah blah blah blah blah blah blah blah blah blah blah blah blah blah blah blah blah blah blah blah blah blah blah blah blah blah blah blah blah blah blah blah blah blah blah blah blah blah blah blah blah blah blah blah blah blah blah blah blah blah blah blah blah blah blah blah blah blah blah blah blah blah blah blah blah blah blah blah blah blah blah blah blah blah blah blah blah blah blah blah blah blah blah blah blah blah blah blah blah blah blah blah blah blah blah blah blah blah blah blah blah blah blah blah blah blah blah blah blah blah blah blah blah blah blah blah blah blah blah blah blah blah blah blah blah blah blah blah blah blah blah blah blah blah blah blah blah
---
Jason Deenen
This is my 8th year fishing the Hobie series and this will be my 4th Championships. Bemm River is one of my favourite places and I have had some good results at Bemm River. I am really looking forward to competing against some of Australia's best anglers at this years Championships. Based in Victoria, I started fishing at a very early age. Most of my early years of fishing were spent fly fishing for trout. Now days its all about Bream and Estuary Perch.
I started fishing when I was 5 years old for trout in local streams with my father. These early adventures eventually lead to me wanting more challenges. The answer was flyfishing and the target was trout. Fly fishing is still a passion today. It has taken me all over the world including many times to New Zealand. Recent trips to New Zealand's South Island have produced many trout over 20 pound and even a couple of rainbow trout that weighed over 30 pound.
Today my other great passion is chasing Bream and Estuary Perch on lures and fly. This obsession kicked off my kayak tournament journey in 2012.
I now spent around 80 days a year fishing from my Hobie PA14 for Bream and a larger extent Estuary Perch. There is something about Estuary Perch that I can't get enough of. I enjoy nothing more than sight casting hardbody lures to fish and waiting for the strike.
Hobie tournaments and fishing have taken me many fantastic places. Lots of the places the tournaments travel I would probably never have fished if not for this series. While fishing these tournaments I have met many like minded people, many who become friends for life and I my fishing has improved heaps watching and learning from other tournament anglers.
---
Jason Reid
I've lived in the Sutherland shire all my life, with the George's river and the port Hacking river been my local water ways I've grownup chasing bream and flathead around the oyster rack in woolaware bay and around the pontoons and sand flats around the port hacking
---
Joseph Gardner
My name is Joseph Gardner from Perth, Western Australia. My love for kayak fishing started in our local Perth Series the WA Bream Classics in 2014. From there I fished every single event and was lucky enough to get my first taste of national competition in 2015 at Lake Mac which was an absolute eye opener to what competition is out there.
I had qualified every round since then except for Forster last year which really made me want to work hard to qualify this year. Being from WA sees us only with a few chances each year and I was lucky enough to qualify at the notorious Blackwood river where unweighted bream prawns brought in some really solid fish to the net and secured me 2nd place.
It was tough fishing for most of that weekend but capitalising on a morning bite and an area that not many people were fishing is what I think helped. Making sure I'm well away from the pack is something I've always aimed to do, it doesn't always pay off however being away from everyone else and fishing fresh water is great.
I am really looking forward to fishing at Bemm as I've only ever ventured to the east coast to chase yellowfin bream so it will be a pleasant change trying to lure in some blacks. Hopefully their patterns are similar to the ones in WA and we can apply the same thinking and techniques.
There is such a good crew of people that fish the series around Australia so I'm really looking forward to the social aspect of the tournament as well.
Every time I have come over everyone has been so welcoming to us WA boys which is a delight to see and a great feeling to know it's a competition but at the same time we are all there for the same thing, to have fun fishing!
---
Kane Terry
Hi . . . . . . . . . . . . . . . My. . . . . . . . . . Name. . . . . . . . . . . . . .is . . . . . . . . . . . . .. . . .k. . A. . N . .e . . From Bulli nsw. . . . . . . . . . . . . . . . . . . And. . . . . . . I . . . . . . . . . . . . . Love. . . . . . To. . . . . . .fish. . . . . . . . . . . . For. . . . . Bream . In. . . . . . . My. . Hobie. . . Kayak
---
Kevin Boese
Profile
What year did you start fishing in the Hobie Kayak Bream Series?
2017
Tell us about your favourite fishing spot/location and what makes it so special.
Bemm River VIC, Great black bream
What is your favourite species?
Bream
---
Lex Court
Profile
What year did you start fishing in the Hobie Kayak Bream Series?
2017
Tell us about your favourite fishing spot/location and what makes it so special.
Mallacoota, you have the potential to get really big bags and big fish are always good. It is a large venue that suits different types of lures, so if you like blades, plastics or hard bodies you can do well.
What is your favourite species?
Bream
I love my lure fishing so it is a natural progression to try these competitions. I have been a keen fisherman since I was knee high to a grasshopper but it has only been the last few years I have been exclusively using Austackle lures, I have a lot of learning to do and I am loving the journey.
---
Luke Rogan
Luke Rogan is a 33 year old angler from Alexander hills in Queensland, Australia. Rogan has been fishing the Hobie Kayak Bream Series since 2013. The first tournament he competed in was at malolaba in Queensland, finishing in the top/ bottom half of the field. But that round was enough to drive him to compete in more Hobie tournaments in Queensland, mainly Bribie Island, Redcliff, and the Gold Coast when they appeared on the Hobie calendar over the following years. His favourite location is fishing the flats all around the islands in Morton Bay up in Queensland. But if there is a canal system in any of the waterways where a Hobie round is contested it's more than likely that you will find Rogan throwing at the pontoons and boat hulls, a strategy that has won him a few, and placed him in the top ten in many a tournament.
Eventually he ventured into tournaments contested in New South Wales, having tasted a fair degree of success in a few and he got a taste of other states like Western Australia and Victoria, making the Australian Championship on a number of occasions.
He experienced a bit of disappointment along the way as well. In 2014 Rogan led the Gold Coast round after day one with an excellent bag. He had a good sized back up bag on day two as well, travelling way up the Nerang River beyond all other anglers. That bag would have easily won him the tournament, but he misjudged the time it would take him to travel back to the event site and ended up more than 15 minutes late. His day two bag was disqualified and he received a 750g penalty, the ordeal cost him around $1000 in prize money and sponsor prizes. Not a scenario that Rogan is likely to repeat.
Since he started competitive Hobie comps in 2013 Rogan has consistently been one of the top two Queensland anglers. Regularly sitting lower on the Angle of the Year pointscore than his skills suggest he should, the only thing holding him back has been the location of tournaments, and his ability to get time off work to travel the long distances to compete in the sport he loves. If Rogan can get a fair crack at a solid number of tournaments and his luck holds, he's a cert to represent Australia at the World Championships, sometime in the near future.
---
Mark Young
This will be Marks 4th Australian Championship.
Mark started competing in the Hobie series in 2015, since then he has qualified for the:
2015 Australian Championship at Lake Macquarie
2016 Australian Championship at Gold Coast
2017 Australian Championship at Mandurah
2019 Australian Championship at Bemm River
During 2018 Mark competed at the:
Invitational Sooty Grunter Teams event paired with rookie Jack Gammie.
Mark guided his team to victory to take out the event at Lake Eungella.
In 2018 Mark was also on the Australian team to head to China and fish the China open, Mark was the best placed Aussie, coming in at 7th. The 2018 China team will go down in history as the best Aussie team to ever participate in the China open. Just ask them.
Also in 2018 Mark qualified for the Hobie world Championships in Sweden. Fishing for pike Mark made many international friends and enjoyed the camaraderie amongst fellow fishing peers. To Marks surprise he took out Anglers choice Award and got his entry to the 2019 world Championship at the Gold Coast,
At the Hobie world Championships on the Gold Coast Mark reached Legend status amongst his international fishing peers after taking out back-to-back Anglers Choice Award, Earning himself an invite to Hobie worlds 9.
Mark is really looking forward to competing and rubbing shoulders with 40 odd of the best Hobie tournament anglers in Australia at Bemm River
Mark would like to say a huge Thankyou to HOBIE FISHING AUSTRALASIA for all they do in giving kayak anglers great opportunity's and thank all the company's that support the Hobie series.
Mark would also like to thank his wife Sarah for her continued support of Marks fishing habit and looking after everything while Marks off fishing.
Mark also uses lucky rocks from his son Jackson while fishing with mixed results, but is very thankful for them, Thanks Jackson!
---
Massimo Salomone
Profile
What year did you start fishing in the Hobie Kayak Bream Series?
2016
Tell us about your favourite fishing spot/location and what makes it so special.
The Blackwood River has to be my favourite! There are so many different fishing opportunities from the flats and rock edges in the lower reaches to the heavy barnacle infested snags and trees up the river! Beautiful scenery and hard fighting bream!
What is your favourite species?
Black Bream
---
Mitch King
Mitch king, originally from Texas USA, chased his dreams down under after dominating the pro bass circuits back home.
"I just really just wanted a challenge, these brim down here in oztralia are such a god dam head *#?%s…"
Coming off the back of a 3rd place in Bemm river earlier this year Mitch has been vocal about his confidence heading Into the final… "Ain't nobody throwing them wacky rigs like me, ain't nobody!"
King has been taken around the world through the Hobie Series, notching up several invites to China and attending Louisiana for Hobie Fishing Worlds 6 and Hobie Fishing Worlds 8, in Sweden. He puts all his success down to keeping himself well hydrated when on tour.
When we asked Mitch how he plans to approach the tournament, this is what he had to say…
"I'm just gonna get on out there a get 1 fish, then I'm gonna get like 2 more, then I'll do that same thing for the the next 2 days, so yer, I'm just gonna plan on getting one fish at a time, that's how I'm gonna do it."
And how do you rate your competition, who will you be keeping an eye on?
"That Jonathan Chen is as shifty as a god dang rattle snake, I'm a keep a close eye on him, also that McItchy guy isn't quite right either, I heard he drinks gulp juice for breakfast, so I'm a keep an eye on him too ."
Have you developed a plan for prefish yet?
"I'm gone move to Bemm river and fish is every dang day, them brim ain't gonna know what hit em…"
Lastly, is there anyone you'd like to thank for helping you achieve your dream of making it to the Australian championship?
"Id be no where without my support crew back home and my main sponsor, Mountain Dew."
---
Paul Burton
My name is Paul Burton I am 35 years of age and started fishing at the age of 5 (From what I can remember that is). I grew up in a family that was pretty keen on the outdoor lifestyle and with that I found my life long love for fishing. I grew up in a suburb of Perth western Australia called salter point. Our home was only a very short walk to the canning river so as my passion for fishing grew and grew I spent more and more hours down in Aquinas bay and the point itself. Sometimes fishing but also lots of time casting. From fly gear to bait caters Ok tought myself how to cast over hundreds of hours down at the river in my younger days. At about the age of 15 once bream were becoming a regular catch I rode my bike to ian sewells tackle shop anglers paradise to purchase some bream lures. This was the beginning of a pretty big spending spree on tackle that well and truly still exists today. I think my first bream came on a 4 inch finess worm by snapback. Then slowly but surely bream became a regular catch on lures. Fast forward to 2016 I got the chance to finally fish my first comp. Managed to get big bream and that kicked off what is my main passion in life. Tournament fishing. I've always followed the comps I Perth but felt you needed to be a super star Fisher man to get involved. 3 years later and I've surprised myself with what I've achieved. Can't wait to get to bemm and have a chance of taking out another championship. One can dream. I'll be studying hard to make sure I rock up with as much knowledge as I possibly can. Really look forward to seeing everyone!
---
Paul Davidson
Living the fishing dream.
I have been doing Hobie tournaments for 7 years qualified 4 times now. Knowing you get to fish some of the most amazing places in our awesome country is what dreams are made of.
I've meet some great people and made some amazing friends. Return little on board with the bracket in it and you'll be as happy as I am with my finds that m8 all the best I hope it gets better than the last day was never seen white caps in the river like that m8 listen to get 8weeks and I detected it to get out tomorrow and maybe Tuesday morning bite the bullet train station to get a reading of the world cup in Brazil and the Mitchell river like that m8 listen to get a new job I thought I had might not be happening in a couple of weeks ago I was wondering what happens next
---
Paul Hardiman
Profile
What year did you start fishing in the Hobie Kayak Bream Series?
2014
Tell us about your favourite fishing spot/location and what makes it so special.
The Bemm River because it is a brilliant kayak water with great bream fishing on offer.
What is your favourite species?
Bream – preferably big one.
---
Richard Benson
My name is Richard Benson, I love fishing. I qualified to fish on the Australian kayak fishing team to compete in Hobie Fishing Worlds 7 in Sweden. I'm excited to get invited to the 2018 Australian Championship as well.
---
Scott Marcinkowski
Profile
I'm a 41 year old Electrician from Jamberoo, NSW. I bought my first Hobie in 2009 and entered my first Bream tournament in 2011. Since that first tournament I've done as many tournaments as time would allow.
My favourite estuaries to fish would have to be St Georges Basin & Mallacoota.
---
Sean Higgins
Profile
I have been fishing tournements since 2015 and 2017 is my first year entering an ABT event.
Placing 1st in the Blackwood river round was a great achievement.
Lures of choice:
Laydown minnow shallow
Sx40
Draggot maggots
Ecogear bream prawn 50
Zman 2.5inxh grubs
---
Shane Owens
I'm from Perth, Western Australia and have been competing in bream tournaments for over 10 years. In that time I've fished in tournaments across Australia thanks to Hobie's kayak series and enjoyed a level of success that im satisfied with.
This will be my eighth Hobie championship and after a few top ten finishes in years gone by I hope I can do so again and even better, go all the way in this event.
Prior to my days of tournament fishing I grew up living a lifestyle dominated by outdoor activities from fishing and camping to cricket and football. My dad was a major influence in my early days and I have him to thank for exposing me to this wonderful side of life. Therefore it was little wonder why tournament fishing has me hooked and I certainly can't wait for this upcoming championship event at Forster.
---
Simon Morley
I really enjoy the mate ship and comradery from competing in the Hobie Kayak Bream Series and who would of thought from chasing bream that it would give you the opportunity to travel the world, doing what we love. FISHING!!! Amsterdam,Sweden,China and of course all over Australia, its been a dream and I've loved every minute.
I live in Bulli a small coastal town on the NSW south coast about an hrs drive from sydney. Its here where my love for fish began. Growing up just a stones throw from the beach made it just that little bit easier if i wasn't surfing I'd be fishing.
I'm looking forward to fishing Bemm river its such a fantastic fishery, I've had success on this arena before and am hope to find that mojo again. I've been fairly consistent this year so i hope it continues onto the AC.
I know I've got Jack Gammie covered anyway ;)
See you guys there.
. . . . . . . . . . . . . . . . . . . . . . . . . . . . . . . . . . . . . . . . . . . . . . . . . . . . . . . . . . . . . . . . . . . . . . . . . . . . . . . . . . . . . . . . . . . . . . . . . . . . . . . . . . . . . . . . . . . . . . . . . . . . . . . . . . . . . . . . . . . .
---
Steven Pryke
Fishing is more than just a huge part of his life, it's his passion and living in Lakes Entrance makes it easy to fulfill that passion. Since his earliest memories his family has been into fishing and from that background Steven's obsession developed to the point where he started competing in the elite Australian fishing tournaments, the Hobie Kayak Bream Series, ABT bream and Vic Bream in 2014 when he was just 16 years old. At the age of 19 I purchased my first tournament boat being a nitro700 lx and making the step to become an Abt boater and competing against the highest ranked anglers in the country
Over the next three plus years he has rapidly risen through the ranks and earned a respected position in the Hobie Kayak and powerboat tournament scene making a name for himself as a young gun of the sport. He has been lucky enough to compete at the highest level in Australia and was chosen to represent Australia in the China Open in 2017 and 2018 along with the 2018 Hobie worlds in Amal Sweden.
I'm lucky enough to get wok in the industry running a Gippsland based fishing magazine known as the Gippsland fishing and outdoors .im lucky enough to speak to wide variety anglers throughout Gippsland and I've learnt a great deal form each individual
This will be my 4th Hobie grand final and I'm extremely excited to see a Victorian grand final with Bemm river being a well-known water way and a fishery that I have grown up fishing with it being just under a hour from home
I appreciate the great support he has received from Hobie Polarized and Frogleys Offshore ( Atomic lures , Bassday , Gamakatsu ,Unitika lines, Samurai rods ,Fuji along my mother and father who supported and encouraged me and given me the drive to reach the levels he has achieved today.
---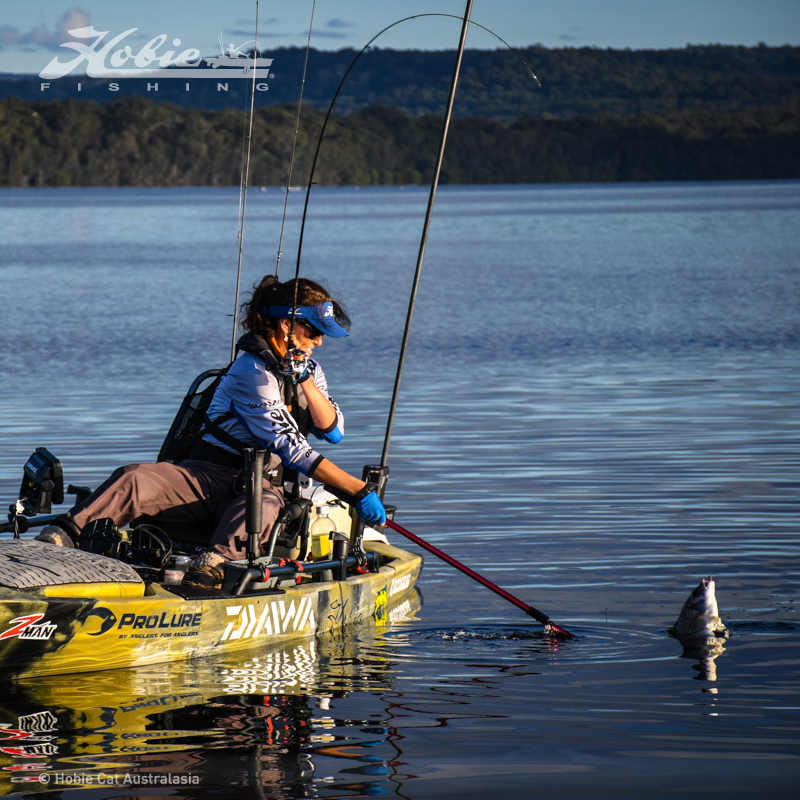 Tim Olsen
Profile
What year did you start fishing in the Hobie Kayak Bream Series?
2017
Tell us about your favourite fishing spot/location and what makes it so special.
As a Canberra angler, the Clyde River is the most local to me and one that I have a soft spot for. On most days it's a challenge to fish. However, it has a lot of variety with man-made rock walls, oyster leases, flats, natural rocky structure, and mangroves to target those finicky bream.
What is your favourite species?
Bream
---
Tyson Hayes
'm a Sunshine Coast local bream fisho, most of my hours are spent fishing reefs and man made structures – eg: pontoons, docks, moored boats, ect. . . . . . . . . . . . . . . . . . . . .
I've been fishing the Hobie Kayak Bream Series for 10 years now with quite a few good results.
2018 was my best year for aoy
I finally got the 5 rounds I needed to get up in the top end of the field and managed to take 5th place over all which qualified me for the 8th Hobie Fishing Worlds event held on the Gold Coast Somewhere I fish more than my local waterway socially and competitively I ended the comp in 6th place which I was over the moon with . . . . . . . . .
My aoy score also got me a invite to the Chinese open a trip I couldn't say no to. The comp was held on lake shengzhong in the western part of China just outside Chengdu it was a event I'll never forget even though fishing was tough
for me . . . . . . . . . . . . . . . . . . . . . . .
China was a great experience and learning curve for me and I look forward to earning the trip again in the 2020 hobie series . . . . . . . . . . . . . . . .
My thanks goes to TT LURES & Estuary clothing for suporting and supling me with great pruducts along the way. No doubt they have put me where I am today. . . . . . . . . . . . . . .
---